As a lover of fresh salads and homemade dressing my wife  bought me a handful of fresh peppers to add to a zesty salad. Just that the peppers were way too hot as a colorful addition to a nice salad! Since no food will go to waste I had to come up with another  plan for the peppers. Why not make my own hot sauce?  I looked up how the  world famous Tabasco Hot Sauce is being made and figured from there how to go about making my own version.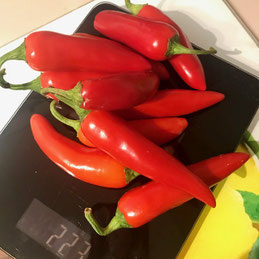 Step 1:
For my recipe I used:
200 g. (7 oz.) hot peppers
250 ml. (1 cup)  White Vinegar (5%)
1 1/2 table spoons of Himalayan Salt. As an alternative you can use sea salt.
Step 3:
Remove blemishes, chop the peppers roughly with a nife and place the peppers (with the stems removed) in a blender and chop them to small pieces.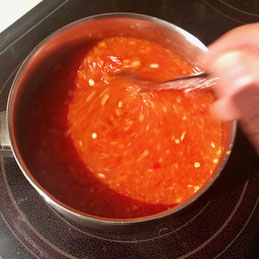 Step 5:
Put the chopped peppers into a small pan on the stove, add the vinegar and turn the heat to medium-high. bring the sauce to a boil  and stir continuously while making sure that nothing sticks to the pan, reduce the heat to low and continue cooking the sauce for a few more minutes.  Caution: The steam might irritate your lungs and nose - ventilate your kitchen well.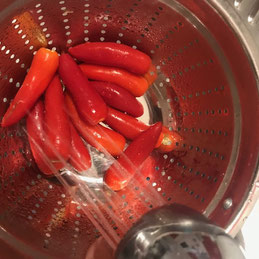 Step 2:
Remove the stems.
Rinse the  peppers thoroughly.
Caution: Be careful when handling hot peppers as they might irritate your skin. You might wear disposable gloves  and wash your hands thoroughly after being done.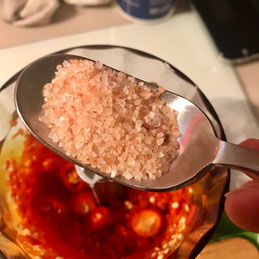 Step 4:
Add the salt into the blender and continue chopping the peppers.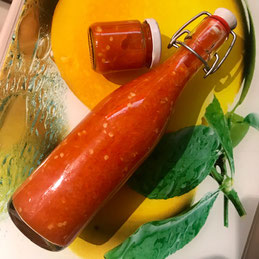 Step 6:
Pour the sauce in an airtight  glas container (avoid using plastic containers) with a funnel.
Refrigerate the sauce for about 2 weeks allowing  the sauce to develop its consistency and flavor .
This is the first part of my legacy in making hot sauce. I will be back on this subject in about 2 weeks with more updates. We will be looking at the Steps 7 and 8 which will deal with the finishing procedures like straining and final bottling of the sauce. Cheers, André